We're Getting Mutants in the MCU - The Loop
Play Sound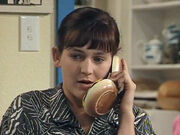 Roberta "Bobby" Marshall (née Simpson, previously Morgan) [1] first appeared in January 1988 (Pilot Episode) and was a main character until August 1993 (Ep 1304). She was one of the most popular characters in the early years of the show and played a pivotal role in many storylines. She was killed off in a boating accident in 1993. Notoriously, she re-appeared as a vision to a hallucinating Ailsa Stewart in June 1995 (Ep 1709 and Ep 1710).
Bobby was played by Nicolle Dickson.
Biography
Backstory
1970-1987
Bobby was born in 19 March 1970, the result of an affair between Donald Fisher and Morag Bellingham. She was named after the titular character from the Janis Joplin song "Me and Bobby McGee". Bobby was adopted by Al and Doris Simpson and for years never knew who her biological parents were. She had a horrible childhood and became a tearaway. By the time Home and Away began in 1988, Bobby was secretly living in a caravan in the Summer Bay Caravan Park, with only the McPhees and Ailsa Hogan having any time for her.
1988-1993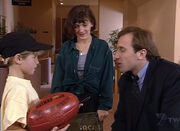 Bobby was fostered by Tom and Pippa Fletcher shortly after they moved to Summer Bay. By that stage, Bobby was 17 and had made plenty of enemies in the area. One of her biggest foes was the Vice Principal of the local High School, Donald Fisher. Neither of them found out until the following year that they were father and daughter. With help from the Fletchers, Bobby began to change her ways and re-enrolled in school. She had an ongoing rivalry with fellow schoolgirl Roo Stewart who she frequently referred to as "Kanga" and also locked horns with Alison Patterson. At home, she had a sometimes turbulent relationship with her foster sister Carly Morris.
Bobby was fiercely loyal to Ailsa, who had stood by her when nobody else would. She later became close to Donald Fisher's son Alan, not knowing that they were half siblings. Alan died suddenly from a cerebral aneurysm before they knew the truth about their mutual father. Bobby came to realise that she was in love with her foster brother Frank Morgan and found it difficult to watch his relationship with Roo Stewart develop. After they broke up, Bobby and Frank got together and married in February 1989 (Ep 243),
A month after Bobby's wedding to Frank, she found out who her real parents were (Ep 274), Surprisingly, she and her father Donald became close. She and Frank even moved into his house after their flat behind Celia's store was burned to the ground. On the other hand, she and her mother Morag never managed to make a connection and remained estranged. 1989 was a year of mixed fortunes for Bobby - she may have gained a father but she lost a husband. Her marriage to Frank ended because he was on the rebound from Roo and got back together with her.
By now, Bobby had mellowed a lot and became an unlikely pillar of the community when she went into business with Ailsa Stewart. The pair went into partnership in 1988 and established the Bayside Diner. Bobby went from smacking people in the face to serving endless hamburgers and milkshakes to the locals.
In 1990 Bobby became pregnant after a short-lived relationship with Chris Reynolds. Unfortunately, she suffered a miscarriage towards the end of the year but she decided some months later to become a foster mother. She was eventually given a little boy called Sam Nicholls to foster and eventually his mother gave him up to Bobby. Their future together was thrown into doubt when Sam's biological dad Greg Marshall arrived on the scene and applied for custody of his son. After a rocky start, Bobby and Greg became a couple and married in 1992. They bought The Beach House from Marilyn Chambers, who had become a close friend of Bobby's.
Because of her upbringing, Bobby had a soft spot for young people who'd fallen on hard times. She took Tug O'Neal into her home, something that Greg found difficult to deal with at times.
In 1993, Greg cheated on Bobby with Donald's new housekeeper Fiona Harris. Bobby found out about the affair and threw Greg out. Fiona left Summer Bay and Bobby decided to take him back. It turned out to be a short-lived reconciliation. In August 1993, she and Luke Cunningham took a ride in a speedboat being driven by Adam Cameron (speedboat....Adam....what could possibly go wrong?). The speeding boat hit a floating log and launched Bobby into the air at speed, before she hit the water. She was put on life support and test revealed she had suffered severe brain damage. She died without ever regaining consciousness.
Memorable info
Birthday: 19 March 1970
Died: 19 August 1993 (Aged 23)
Full Name: Roberta Marshall (nee Simpson)
Nicknames: Bobby
First Line: "Get rid of 'em."
Last Line: "Oh, this is fantastic!" (to Adam)
Trivia
Bobby was originally meant to be one of the Fletcher family's original foster children. It was later decided that she would be an outsider who is fostered by Tom and Pippa Fletcher after their move to Summer Bay.
Even though Bobby died in a boating accident in August 1993, it wasn't the last time she was seen on Home and Away. In June 1995 (Ep 1709), Ailsa Stewart took some 6-year-old anti-depressants which caused her to hallucinate. Bobby's ghost appeared to her, coming out through her fridge door(!) and speaking to her. She told Ailsa that Alf loved her and did not want to hurt her.
Being Morag's daughter, Bobby is one of the many descendants of the Stewart family.
Family
Father Donald Fisher
Mother Morag Bellingham
Siblings Alan Fisher, Rebecca Nash, Byron Fisher (all half, same father) Sophie Simpson (adoptive)
Grandfathers R.J. Fisher, Gordon Stewart
Grandmothers Sarah Jane Stewart, Isobel DuPre
Great grandfathers Duncan Stewart Snr
Spouse Frank Morgan, Greg Marshall
Adoptive children Sam Marshall
Uncles/Aunts Alf Stewart, Colleen Smart, Barbara Stewart, Celia Stewart, Debra Stewart, Mary Croft, Clive Fisher
First cousins David Croft, Lucinda Croft, Roo Stewart, Owen Dalby, Quinn Jackson, Duncan Stewart, Lance Smart, Maureen Evans
Nephew Seb Miller
See also
Bobby Marshall - List of appearances
Gallery