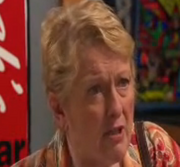 Colleen Stewart (previously Smart, nee Hickie) was a character in Home And Away who first appeared in Episode 36 (7 March 1988). She is the half sister of Alf Stewart, Morag Bellingham, Celia Stewart, Debra Stewart and Barbara Fisher. Colleen was the busybody of Summer Bay. She last appeared in Ep 5664 (24 Jan 2013). Colleen has sometimes been classed as the Eileen Clarke of Summer Bay, the flighty, gossipy lady, very similar to the Neighbours character Mrs Mangel or an Esme Watson (of A Country Practice fame) type character. Colleen was played by Lyn Collingwood.
Colleen Hickie was born in May 26 1939, the illegitimate daughter of Gordon Stewart and Mavis Hickie. Colleen was adopted by Mavis's husband Merv. In 1954, aged 14, Colleen became pregnant and gave birth to a daughter Maureen in March 1955. Maureen was adopted. In 1959, Colleen won the 'Miss Groper' beauty pageant. Colleen was good friends with Morag, Celia and Alf Stewart, unaware at the time they were her half siblings, the bumbling Colleen was proud of the fact she was a Stewart, and always believed in her heart that she was a true "Stewart". Morag later married Richard Bellingham.
In 1965, Colleen married Les Smart and they had a son Lance in 1968.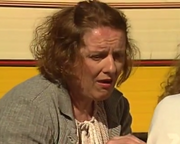 In March 1988 Colleen turned up briefly at Hogan's Store. She was a friend of Celia Stewart and they both gained a reputation as local busybodies. Colleen told Pippa Fletcher that Carly Morris had been sexually assaulted. This annoyed Carly as she did not get a chance to tell her first.
In 1988, Lance won AUS$500'000 and Colleen reappeared.
Colleen is still living in Las Vegas, Nevada, USA as of 2019. She would now be in turning 80th year
Birthday: 26 May 1939
Full Name: Colleen Smart (nee Hickie)
First Line: "Oh, excuse me. You're Mrs Fletcher, aren't you?" (to Pippa)
Last Line:
Father Gordon Stewart
Mother Mavis Hickie
Siblings Celia Stewart, Alf Stewart, Barbara Fisher, Morag Bellingham, Debra Stewart (all paternal half, same father), Patricia Turner, (maternal half, same mother)
Grandfathers Duncan Stewart Snr
Spouse Les Smart (1965-2000)
Children Maureen Evans (1955), Lance Smart (1968)
Grandchildren Maggie Smart
Community content is available under
CC-BY-SA
unless otherwise noted.