Darryl "Brax" Braxton
is a character in Ho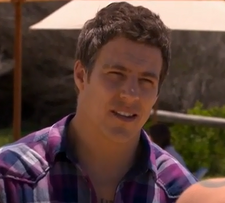 me And Away who first appeared in
Ep 5233 (16 Feb 2011)
. He is the eldest member of the Braxton brothers who dabble in crime and are quite feared in
Summer Bay
and
Mangrove River
. Darryl is set to leave Summer Bay in 2015. Darryl is known as "Brax" and is played by
Stephen Peacocke
. He is one of the shows most iconic characters of recent times and despite his villainous ways, Brax always cared deeply for his family and meant well when it came to them.
Biography
Edit
Backstory
Edit
Darryl Braxton was born in about 1983 the son of criminal Danny Braxton and his wife Cheryl Braxton. Darryl was their eldest child. He was known as "Brax" as he grew older and started dabbling in crime, his younger brother Heath Braxton following suit.
2011-2015
Edit
Brax arrived in Summer Bay in February 2011 with his 2 siblings Heath and Casey Braxton. They former a surf gang trio nicknamed "The River Boys". They started a brawl in a club and Brax punched Miles Copeland. The River Boys started causing trouble in Summer Bay and policewoman Charlie Buckton kept a close eye on them.
Other storylines Brax was involved in was drug dealing, cage fighting and his relationship with Ricky Sharpe. In 2011, Brax got involved in a war with rival surf gang leader Jake Pirovic.
In 2014, Jake Pirovic returned to get revenge on Brax, as he also balmes him for the death of Hammer. This ended up in the accidental death of Casey. Brax vowed to put Pirovic in the ground. Pirovic had a car crash when chasing Brax and ended up in hospital. Andy Barrett switched his life support off.
In 2015, Darryl and his old friend Martin Ashford tracked down an old enemy. Brax was later charged with the murder of Dean Sanderson. Daryl later faked his death to go on the run from the police after escaping jail.
In early 2016, Darryl was said to be alive by an old enemy, Trevor Gunson aka "Gunno".
Memorable info
Edit
Birthday: 1983
Full Name: Darryl Braxton
Nicknames: Brax
In 2013, at his trial he was said to be 30 years old, so born about 1983.
Father Danny Braxton
Mother Cheryl Braxton
Siblings Heath Braxton (full), Casey Braxton (half, same mother), Kyle Braxton (half, same father)