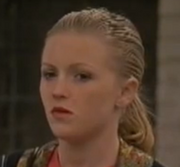 Karen Dean
is the sister of 
Blake Dean
and half-sister of
Roxanne Miller
. She appeared on the show from July 1990 (
Episode 589
) until August 1991 (
Episode 842
), making a guest appearance in 1993. Karen last appeared in
Episode 1175
. Karen was played by
Belinda Jarrett
.
Biography
Edit
Backstory
Edit
Karen Dean was born in 1975 to Les Bagley and Margot Dean, who never married. Karen had a brother Blake, also born to Les and Margot. Karen was a wayward teenager.
1990-1993
Edit
In July 1990, Blake and Karen arrived in Summer Bay to look for Ailsa Stewart, their mother's former cellmate. Karen and Blake persuade Ailsa and her husband Alf to take them in. Alf eventually agrees. Karen starts causing trouble and befriends petty thief Sophie Simpson. She then makes a play for Steven Matheson. Karen tries various methods to get time alone with Steven but they backfire, so she sends him an anonymous love letter. Steven assumes Sophie wrote the letter but she sets him straight. Ailsa discovers Karen's feelings for Steven after she denies it. The truth is revealed and Steven tells Karen he is flattered but it cannot work as he is several years older than her. Karen begins to feel left out when Blake and Sophie begin dating. In November 1990, Karen was assaulted by nasty teacher Alan Stone and he was transferred to another school.
In January 1991, when a tree planted by Alf's grandfather, Angus is under threat, Karen takes part in a protest and chains herself to the tree. Kaz is attracted to Revhead but Alf warns her off as he is a criminal. Karen carries on dating Revhead and she joins him on a raid on Alf's Store. Revhead tells Karen to join him on the run and tells her to steal Blake and Haydn's car. Adam Cameron tries to talk sense into Karen to get her to return by jumping into the car but they crash into David Croft, killing him. Karen blames Adam but later confessed herself. She is jailed for 2 years.
Karen is given parole in 1993. She returns to Summer Bay but she has not redeemed. She starts a fight in a nightclub and steals money before fleeing to the city in February 1993. She is never seen again in Summer Bay. Blake later joined her to keep an eye on her.
Memorable info
Edit
Birthday: 1975
Full Name: Karen Dean
First Line: "Is this yours?" (to Alf)
Last Line: "Blake, I just want us to be mates again like when we were growing up...I dunno, I'm just sick of feeling like everything I do is wrong and everything you do is right."
Father Les Bagley
Mother Margot Dean
Siblings Blake Dean (full), Roxanne Miller (half, same father)
Uncles/Aunts Kevin Bagley, Alec Dean