Martha Stewart (née Baldivis) is the wife of Alf Stewart, and mother of Roo Stewart. Martha was believed to have drowned in 1985 in a boating accident. To everyone's surprise, she turned up alive and well in 2018.
Martha first appeared in 1989 in flashbacks to 1970 when Alf read her diary. Back then she was played by Alison Mulvaney. Since 2018 she has been played by Belinda Giblin. Martha and Alf remarried in February 2020.
Backstory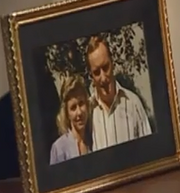 Martha Baldivis was born in about 1949 to Jack and Sarah Baldivis. Alf Stewart first met her when she was 18. They married in April 1969 and had their only child, Roo, in 1970. She also had a son called Kieran who was born during her "wilderness years".
In 1985 Martha was believed to have died in a boating accident. This turned out not to be the case when she returned to Summer Bay in 2018. She came in search of Alf and Roo.
2018-
Martha returned to Summer Bay and revealed to Alf that she was suffering from a personality disorder. This had led to her faking her own death. Martha being alive during Alf's marriage to Ailsa technically made him a bigamist.
Alf and Martha remarried in February 2020.
Memorable info
Birthday: Unknown about 1949
Full Name: Martha Stewart (Nee Baldivis)
Martha's granddaughter Martha MacKenzie was named after her.
Trivia
Even though she only appeared in flashbacks in Jan 1989, Martha is the character with the longest gap between appearances (6609 episodes).
Martha shares her full name with American TV personality Martha Stewart and one of Mona Simpson's (Homer Simpson's mother) aliases, Mona was also presumed dead until a 1995 episode of The Simpsons titled "Mother Simpson".
Family
Father Jack Baldivis
Mother Sarah Baldivis
Spouse Alf Stewart (1969-1985, 2020-present)
Children Roo Stewart (1970), Kieran Baldivis
Grandchildren Martha MacKenzie
Distant relatives Mervin Baldivis
See also