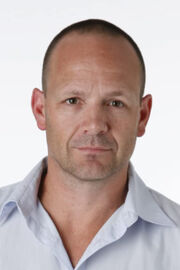 Mat Stevenson (born 19th April,1969), is an Australian actor who played Adam Cameron in Home And Away from 1989 to 1994 and again in 1999.[1]
Pre Home And Away career
Matthew Stevenson was born in 1969. early on in his acting career he appeared in 15 episodes of Neighbours as Skinner.
Home And Away 1989-1994, 1999
Mat joined the cast of Home and Away in 1989 and was a regular cast member for nearly 5 years. In 1994 he left the series and went travelling for 3 years [2] Apart from one guest appearance on Blue Heelers in 1995, he wasn't seen again on TV. Instead, he settled down, had a family and took a government job. Since 2001, he has worked in the area of identity theft. Something Adam might have been interested in finding his way around?
In 1999, Mat reprised his role as Adam on H&A. He appeared in 14 episodes
After Home And Away
Mat appeared intermittently in guest roles on shows such as Blue Heelers, All Saints, Offspring and Miss Fisher's Murder Mysteries.
In 2021, Mat made a return to TV screens in a somewhat unexpected capacity. That of a supportive dad to a transgender daughter.[3] He is also dipping his toe back into acting again, starting with the drama A Small Punch in a Little Town[4]
Refs