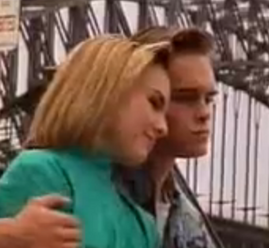 Meg Bowman
was a minor character in Home And Away in 1992. She dated
Blake Dean
but died of cancer shortly after they fell in love. Meg is one of the most memorable guest characters in the series and her peaceful death at sunset on the beach in 
Ep 975 (3 Apr 1992)
, is one of the shows most iconic scenes ever. Meg was played by the late
Cathy Godbold
.
Biography
Edit
Backstory
Edit
Meg Bowman was born in about 1975 to Julia Bowman (portrayed by famous Australian iconic pop singer and actress Debra Byrne)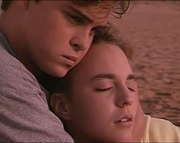 In January 1992, Meg Bowman arrives in
Summer Bay
. She and Blake Dean are attracted to each other. Meg's mother tries to warn Blake off. It transpires that Meg is dying of leukaemia and her mum is being over-protective. Despite knowing her days are numbered, Blake continues to see her.
Meg tells Blake she has three wishes to fulfil before she dies: To swim with dolphins, to ride an old-fashioned ship and to make love. Alf Stewart arranges for Blake and Meg to spend a weekend together at a hotel in "The City" where they consummate their relationship but Meg deteriorates rapidly on their return to Summer Bay.
A few days later Meg dies in Blake's arms on the beach as they watch the sun rise. Blake is devastated by her death. He could smell her perfume on his T shirt.
Memorable info
Edit
Birthday: About 1975
Died: 5th April 1992
Full Name: Megan Jane Bowman
In 2017 when Billie Ashford died of cancer, she died in VJ Patterson's arms at sunset on the beach, which was a nod to the iconic Blake and Meg scene.
In a cruel case of life imitating art, Cathy Godbold died of brain cancer in May 2018, aged just 43 [1]
Mother Julia Bowman
Grandfathers Joe Bowman
Appearances
Edit
1992
Community content is available under
CC-BY-SA
unless otherwise noted.