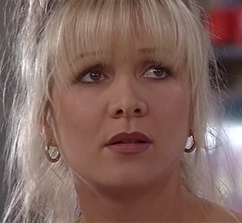 American woman
Quinn Jackson
arrived in Summer Bay in late 1995. It was soon discovered that Quinn was Alf's daughter. Quinn caused trouble for Alf and his wife Ailsa and flirted with Steven Matheson. She soon left the Bay after it was revealed that she plotted revenge against Alf for walking out on her mother. Quinn first appeared in
Ep 1809 (26 Oct 1995)
and last appeared in
Ep 1825 (17 Nov 1995)
. Quinn was played by
Danielle Spencer
, the daughter of Don Spencer, who is married to famous movie star
Russell Crowe
, they are now separated.
Quinn returned briefly in 2017 in a recast role. The actress to play her was Lara Cox.
Biography
Edit
Backstory
Edit
Quinn was born in about 1970 after her father Alf Stewart of Summer Bay, NSW, Australia had a relationship with Quinn's American mother when Alf were serving in Vietnam. Quinn grew up never knowing, or having any memories of her father. In 1995 she decided to go looking for him.
Quinn arrived in Summer Bay in 1995 looking for her long lost father Alf Stewart. Alf thought she was stalking him and said if she was a man he would deck her, in true Alf Stewart style. When Alf sees her leaving, Quinn calls him "Dad" and reveals that she is his daughter. Alf introduces Quinn to his wife Ailsa Stewart. Ailsa and Quinn clash a lot as Ailsa is suspcious of Quinn's true motives. Steven Matheson takes an interest in Quinn and they begin a relationship. Quinn tells Steven her true motive is to get revenge on Alf for abandoning her mother as soon as he found out she was pregnant. Alf finds out the truth and Quinn leaves the bay.
Quin n was mentioned in 2004 and at Alfs 60th birthday in 2005 but since her departure in 1995 she has not returned to Summer Bay and as of 2017 her current whereabouts are unknown. Spoke too soon, she is returning to Summer Bay in 2017.
Some thief guy has arrived in the bay and has said that he is Quinn's son. However Alf doesn't belief him.
Ryder arrived in the bay claiming to be Quinn's son, this is later confirmed by Quinn herself as Alf calls her.
Memorable info
Edit
Born: About 1970
Father Alf Stewart
Mother Mary Jackson
Siblings Duncan Stewart, Owen Dalby, Roo Stewart (All half, same father)
Children Ryder Jackson
Grandfathers Gordon Stewart
Grandmothers Sarah Jane Stewart
Aunts/Uncles Morag Bellingham, Celia Stewart, Barbara Fisher, Debra Stewart, Colleen Smart
First Cousins Bobby Marshall, Alan Fisher, Lance Smart, Rebecca Nash, Maureen Evans
Appearances
Edit
1995
2017