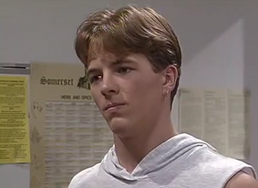 Shane Harold Parrish
[1]
was a character in Home And Away from May 1992 (
Ep 1014
) to March 1996 (
Ep 1878
). He was one of the most popular characters in the show and his relationship with
Angel Parrish
was seen as The Scott and Charlene of the 1990s, a nod to the famous
Neighbours
couple of the 1980s. Originally a bad boy, Shane mellowed over time. He was a good friend of
Damian Roberts
. Shane died as a result of blood poisoning in 1996. He was played by
Dieter Brummer
.
Biography
Edit
Backstory
Edit
Shane Parrish was born in 1976, the youngest son of Philip and Ros Parrish. Shane had an older brother Nick. Ros was more into her law career than bringing up her 2 sons so Philip helped bring them up. Ros later left. Shane became a tearaway as he got older.
1992-1996
Edit
In May 1992, Shane turned up in Summer Bay and was a local tearaway. He wreaked havoc but formed a friendship with Damian Roberts and Damian got involved in some of Shane's pranks. In 1993, Shane began dating Angel Brooks. Shane and Angel both lodged with Donald Fisher at his house. Shane formed enemies with Tug O'Neale. They often scrapped in the school corridors, especially if Tug made advances towards Angel. In 1994, Jack Wilson arrived and was a new rival for Shane. Their schoolyard fights often ended in them getting detention or a suspension. Shane matured throughout 1994 and he and Angel finally married in 1995.
Memorable info
Edit
Birthday: 1976
Died: 13 March 1996 (septic poisoning)
Full Name: Shane Harold Parrish
First Line: "Summer Bay, thanks Pop." (to Alf)
Last Line: "Don't cry." (to Angel)
In 1995, Shane's middle name of Harold was revealed. Angel thought it sounded sexy.
Father Philip Parrish
Mother Ros Parrish
Siblings Nick Parrish
Spouse Angel Brooks (1995-1996)
Children Shane Parrish Jnr (female) (1996)
Stepsons Dylan Parrish