Summer Bay House (sometimes also called "The Fletchers" house, after its original inhabitants) is the main house in Summer Bay. It is one of the largest houses in the town and is has also served as the focal point in Home And Away since the series began in 1988. The house has been home to the Fletchers, Rosses, Nashes and the Sutherlands over the years. Current residents are Alf Stewart, Roo Stewart, Leah Patterson and Ryder Jackson.
Summer Bay House is a double-storey home that was built in about 1900 as the town was expanding and features a large verandah. In 1962 as a young man, Alf Stewart moved in. He married Martha Baldivis in 1969. They had a daughter, Ruth in 1970. Martha was said to have died in a boating accident in 1985 but that turned out to be untrue when she returned in 2018/2019. In 1987 Alf decided to sell up and it was bought by the Fletchers. Caravan Park resident Floss McPhee often served as a caretaker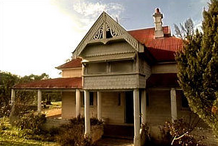 In January 1988, 40 year old Tom Fletcher and his wife Pippa moved into Summer Bay House from their home in "The City". Tom had been retrenched from his job and they needed to save on rent. Tom and Pippa were foster parents to 5 children Frank Morgan, Lynn Davenport, Carly Morris, Steven Matheson and the quieter Sally Keating. They would soon be joined by the troublesome and rebellious Bobby Simpson. When Carly married Ben Lucini, he moved into the house too. Tom was quite a strict foster father and was always keeping the teens in check. However Tom died of a heart attack at the wheel of his car in April 1990.
Pippa was grief stricken but met Michael Ross later that year. Michael moved in after he married Pippa, along with his son Haydn. They went on to take in Finlay Roberts and her brother Damian, Jack Wilson, Shannon Reed and Sam Marshall. After Michael's death from drowning in 1996, she fostered three more youngsters - Liam Tanner Tiegan Brook and Justine Welles. In 1998, Pippa moved away from Summer Bay and started a new life with Ian Routledge. She initially left the house in the hands of Travis and Rebecca Nash but then sold it on to Travis's brother Joel and his family.
Since 2002, due to a fire at the real life location in Kenthurst, Sydney used for the exterior of Summer Bay House, the exterior of the famous house has not been seen. However in 2015, a new replica of the original real life building was built, meaning the exterior of Summer Bay House was seen again from early 2015.
The new replica was built on the same land in Kenthurst that the first house stood on, which was a real house. In February 2015 Ada Nicodemou posted a photo of herself standing outside the new house on her Instagram. It was her first time to be at the house, 16 years after she first joined the show.
The residents who lived there prior to Alf is uncertain.
Community content is available under
CC-BY-SA
unless otherwise noted.